Association Announcements
Sign Up for a Unique and Timely CPA Webinar on August 18, 2022
Hire Robot Workers for Your Packaging Process with Zero Capital Investment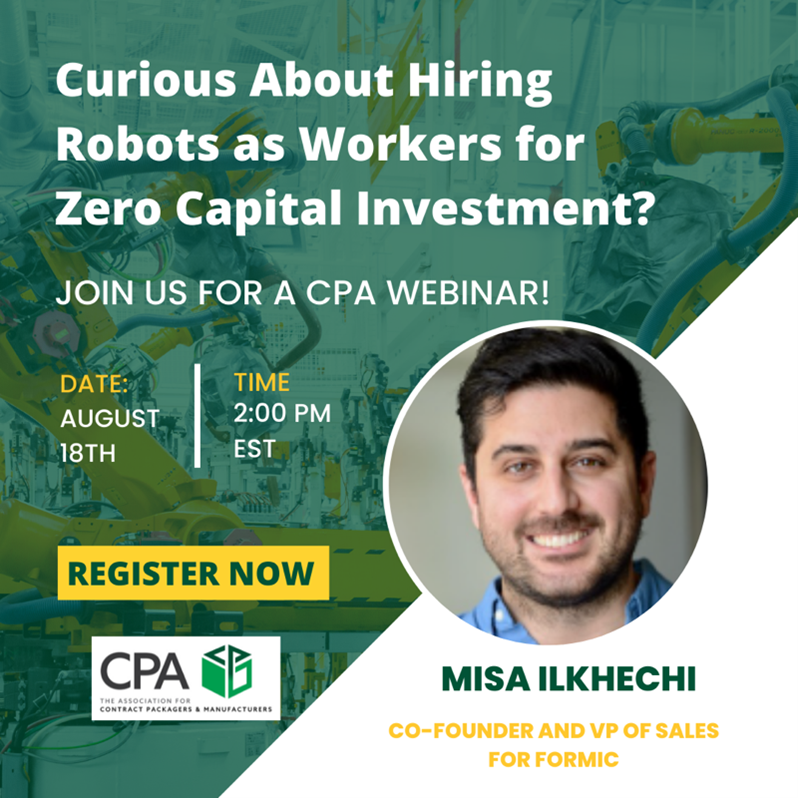 Struggling with a lack of labor or need to control production cost? Then don't miss CPA's next webinar Hire Robot Workers for Your Packaging Process with Zero Capital Investment being presented on August 18, 2022, at 2 p.m. EST.
Learn from Misa Ilkhechi, Co-Founder and VP of Formic, as he discusses "Robotics-as-a-Service," a service model that is lowering the barriers and risk of automation. As labor force challenges increase and robotic automation becomes more critical, this new delivery model allows factories to "hire" automation and pay as if it was manual labor, but at a lower wage rate and with zero turnover.
For zero capital investment, you can automate your case packing, case forming, palletizing, or pallet mobilization process. Also, some RaaS companies contractually include unlimited service and maintenance, which eliminates surprises and unpredictable costs of capital ownership.
For those who don't have the capital, the time, or the thick skin for production risk, this a timely webinar is for you. Tune in to learn about other companies in this space who are already taking advantage of RaaS.
CPA is Sponsoring the 20th Annual Spirit of Innovation Awards
Presented by Prepared Foods
They've made new products—now join us as they make history! Prepared Foods is pleased to bring you the 20th Annual Spirit of Innovation Awards and Integrated Innovation Experience. This year's program will honor six food and beverage companies for new products demonstrating excellence in consumer insights, R&D teamwork, cross-functional execution and overall innovation.

This two-hour special includes:
A "state of innovation" panel discussion featuring top industry experts.

In-depth profiles of each winning company's product + problem-solution storytelling straight from R&D team members.

Exclusive real-time, online chats between webinar attendees and winning company R&D teams.
CPA to Exhibit at PACK EXPO International
Save the Date – October 23-26, 2022
CPA is excited to partner, yet again, with PACK EXPO International via their Association Partner Program! Be sure to find the CPA Sourcing Center (Booth N-4518) during the show in the Association Partner Pavilion! As an additional benefit for our members, our Association Partnership with PACK EXPO International provides our members with the opportunity to register to the show for FREE. CPA Members should be on the lookout for communications that include a member comp code to use when registering to get your registration fee comped!
Connect with Talented Students and
Veterans Seeking Careers in the Packaging Industry
At CareerLink LIVE 2022 @ PACK EXPO International
Careerlink LIVE can connect members of CPA as well as consumer packaged goods companies with talented college students and veterans seeking careers in the packaging and processing industry. PMMI will post your job openings in the Student Lounge along with your booth information. Additionally, students can visit your designated representative during the show to share their resume and see your innovative equipment! Register by September 27th, 2022 to be included in this program!
New PMMI Business Intelligence Survey Report Available:
OEM Sales to Contract Packaging and Manufacturing Operations QS 2022
Pioneering the Future of External Supply Chain
October 3-5, 2022 | F4SS Fall Connect
CPA has formed a relationship with F4SS, allowing our members to receive their member rates when attending events. Don't miss this great networking opportunity!
Mark your calendar for the F4SS Fall Connect meeting, taking place in Las Vegas from October 3-5, 2022. This year's theme, Pioneering the Future of External Supply Chain, will bring together CPG executives to discuss, highlight, and navigate what comes next in our industry.
CPA will host and moderate a panel discussion between contract packagers and contract manufacturers on day two of the meeting. Registration is open now with early bird pricing discounts until August 31st.
Relationships and Insights Propel Brands Forward
October 23, 2022 | Emerging Brands Summit
The right relationships and insights are critical to propelling a brand to its full potential. Are you a growing brand looking for packaging and manufacturing solutions? Or a start-up looking to figure out how to scale? The Emerging Brands Summit, hosted onsite at PACK EXPO International, October 23, 2022, in Chicago, Illinois, was designed for you.
Looking for a unique opportunity to position yourself in front of an audience of high-growth brands seeking knowledge, resources, and partners to accelerate their manufacturing operation from startup to scaleup? CPA members receive an exclusive $3,500 tabletop rate. Download the sponsorship guide to determine which level best aligns with your company.
Save the Date for Next Year's Annual Event
Be sure to mark your calendar for next year's ENGAGE – The Contract Packaging and Manufacturing Experience, taking place February 21-23, 2023, at the Westin Riverwalk in San Antonio, TX. Don't miss THE largest networking and collaboration event of the year for the Contract Packaging and Manufacturing industry, its customers, and suppliers!
A Look At CPA Member News
Cermount Invests in Facility Upgrades
Cermount, recognized for its SQF level dietary supplements and dry foods packaging services, announced that it has invested in the future with a current facility upgrade and line expansion. New vertical and horizontal form-fill-and seal equipment, additional filling lines, and a high-speed Bosch encapsulation machine are just a few of the recent investments. Additional square footage was added to accommodate new growth and dedicated line space for dietary supplements blending, encapsulation, bottling, and powder filling opportunities.
Thank You To Our Annual Sponsors!
Philadelphia, PA
September 28th – October 1st, 2022
Cosmopolitan Hotel, Las Vegas, NV
October 1-3, 2022
Chicago, IL
October 23rd – 26th, 2022
Embassy Suites, Rosemont, IL
November 14th, 2022 (5:00 PM to 8:00 PM)
Stay Up-to-Date with CPA on LinkedIn!
This email was sent by the Contract Packaging Association. By engaging with CPA, you have provided your consent for CPA to process and store your personal information for purposes of communicating with you. Your consent for CPA to retain and use this data will remain active until expressly revoked by you. All questions regarding data privacy policies, practices or portability, as well as requests to revoke consent are covered in our privacy policy or can be addressed to info@contractpackaging.org. CPA may also make use of your data for other communication purposes, such as to inform you of other important industry developments, programs, events or publications that may be relevant to you, and may share it with PMMI, the Association for Packaging and Processing Technologies.